The Marble Caverns of General Carrera Lake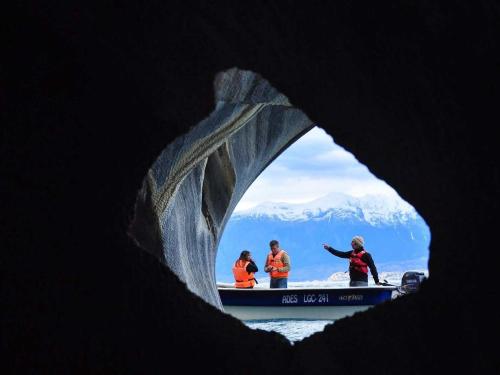 I reproduce a text that expresses wonderfully the excursion to the marble caves that we realized from Mallín Colorado next to the lake General Carrera. Written by my friend Lito Tejada-Flores for the photography book of his wife Linde Waidhofer, "The Unknown Patagonia"

"The blue light produced in the waters of Lake Carrera never disappoints, but it is at its best within the marble caverns carved by the action of the waves for millennia at the base of large cliffs and rocks on the west coast. The local people call Marble Cathedral and Marble Chapel the most prominent of these unlikely rock formations, and there are multiple caverns on the cliffs of the coast that have no name. "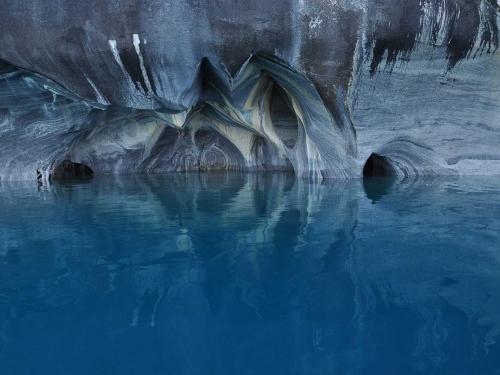 "From north to south runs an unusual vein of marble, it appears on the west coast of this giant lake. The rock is a swirling mixture of shades of white and gray. The marble appears in the old mining town of Puerto Sanchez, almost abandoned, on the north coast, forms small cliffs surrounding the great Panicini Island, then reappears as a large peninsula near Puerto Tranquilo and finally forms small caves on the south shore of the lake, near Puerto Guadal. Here and not in other parts of the lake? We have asked these questions all our geologist friends - questions that have remained so far unanswered.
In Bahía Mansa, some kilometers south of Puerto Tranquilo, an abrupt path descends to a small hidden port. A border crossing between reality and fantasy. Ten minutes later the small boat enters a private universe, a private world of sculpted marble and a haunting blue light. "

"The look does not stop, there is no pause on the surface of the lake, it plunges into the water just like the marble cliffs, sinking into the blue clarity, five meters, ten meters and more, you see every fissure, every detail of the rock under the crystal clear water, an impossible lake filled with impossibly blue water, without the photographs as evidence, you might think it was just a dream, it was not, but it is. " (Text of the book Patagonia Desconocida, by Linde Waidhofer, 2012)