Unique experiences in Aysen
Going down from Balmaceda to the south by the Carretera Austral, always surprise the variety of landscapes that you will find. In a trip of 300 kilometers that takes about six hours, you will pass through valleys, rivers, mountainous rocks, humid forests crossed by narrow roads.

You will enter a route surrounded by flowers in spring, bordering for several hours General Carrera Lake and its calypso immensity, you will see later how the Baker River looks for them between cliffs and mountains, all the time there will be of background, a great presence and white: the Northern Ice Fields.

Our ecolodge, Mallin Colorado, is in the middle of this unknown world, the least visited and most surprising Chile. From there, on the shores of Lake General Carrera, just beyond its mouth to Lake Bertrand, we are within walking distance of the marble caves, Exploradores glacier, you can even go by the day to the San Rafael lagoon.

These unique experiences in Aysen we want to show them in our blog, so that when it comes time to venture into our region, do not miss out on these three activities that are now offered and easily organized from Mallin Colorado Ecolodge.
Marble chapels in kayak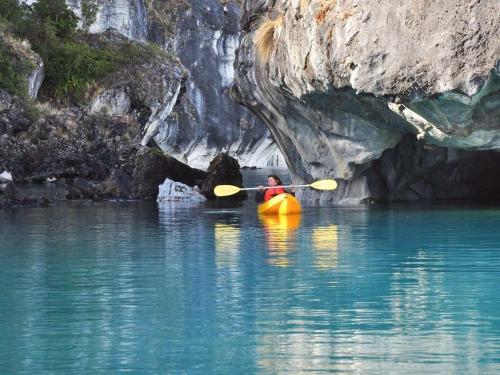 The famous marble caverns can be visited regularly and throughout the day from Bahía Mansa, by boat with Pedro Contreras. But there are also other companies that offer rental of kayaks to sail in the crystal clear waters where these rocks of white stone, pierced by the passage of the water for thousands of years.
San Rafael Lagoon from Lake Carrera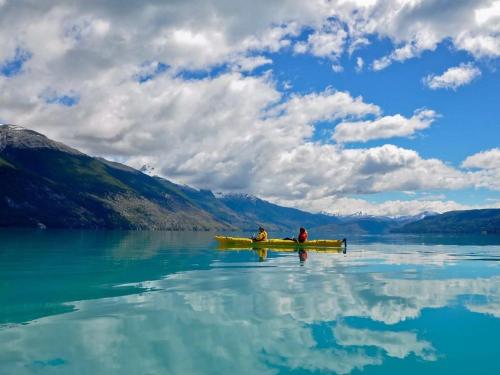 A new way to get to know the San Rafael Glacier is being offered in the General Carrera Lake area through the path to Explorers Bay.
It is a new route, much more adventurous, with river crossings, smaller boats, exposure to the wind and the cold of the Pacific, a real adventure in close contact with the virgin nature of the area.
The ice is seen close up, you walk on them, you also take whiskey, but the journey of few passengers. A true luxury and unique experience in Chile's most famous glacier.
You can visit for the day departing from Mallin Colorado at 7am and returning late at night, but return to sleep home, your cozy cabin in our lodge.
Walks on the Glacier Explorers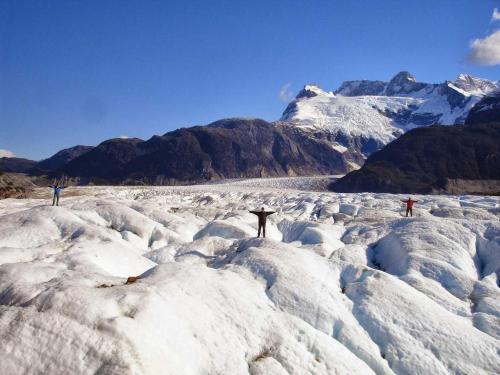 A unique experience in Aysen is walking on the ice of the Glacier Explorers. is the northernmost glacier of the southern hemisphere, so that in its gigantic language that falls from the Mount Valentine, is where the global warming is most clearly seen, as the melting ice falls on this glacier.
We will not see walls that fall to the water with in San Rafael, but rather it is a horizontal language on which you can walk comfortably with crampons for a whole day. Thousands of ice caves give life to an amazing walk, surrounded by white generally with an excellent warm climate. from Mallin Colorado the entire tour lasts an entire day.
To make any of these excursions or all of them, you can stay at Mallin Colorado ecolodge, located one hour from the marble caverns and two hours from the other excursions.
There is nothing better than to enjoy a rich meal by the fireplace and a cozy cottage after a day out in Aysen.
paulach@mallincolorado.cl