US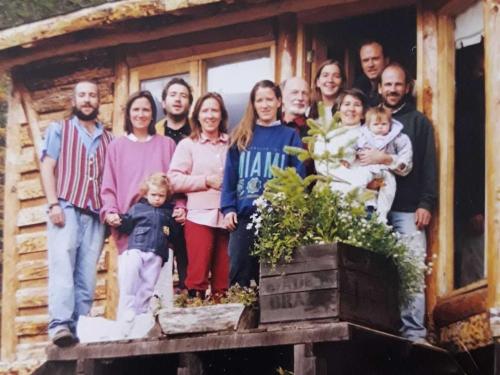 More than 20 years ago the Christensen Arteaga family, on their trip along the Carretera Austral, decided to acquire a property in the most beautiful place of the entire trip, on the shores of Lake General Carrera and very close to the Northern Ice Fields. At first we offered accommodation in cabins built by Eduardo, one of the children and homemade food made by the owner of the house, María Soledad Arteaga. Over time we expanded our offer, we created all-inclusive programs, we involved local boat services, fishing guides, horseback riders, hiking guides and all the adventure tourism offer in Aysen.
Today we follow the seven brothers very involved and there are always some of the family receiving visitors in Mallin Colorado. As we are fed up and all professionals, each one has a different area in the development of the lodge. Whether sustainability, finance, sales and marketing, gardens, artistic display, human resources, etc. All together we make Mallin Colorado a family business, modern, sustainable that enhances the beauty of nature and its resources.
Cilck here
to communicate with us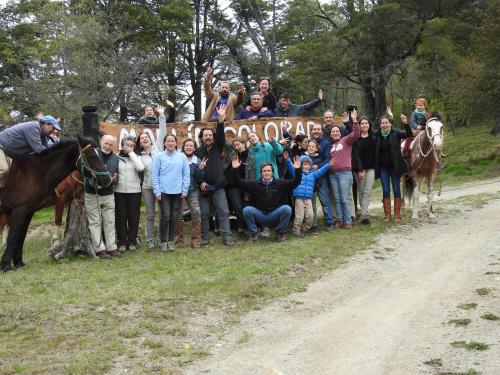 Celebramos con un buen asado de cordero y chivo bajo los mismos coigues que nos recibieron hace 23 años junto a Falucho Beroíza cuando llegamos por primera vez a la zona y decidimos comprar el campo. Fue un memorable momento, grandes recuerdos, grandes tareas que realizar y muchos sueños que cumplir hacia adelante. Con una gran torta de hoja con manjar y nueves, cantamos el Cumpleaños Feliz al festejado y escuchamos un par de breves discursos de todas las generaciones. Un viaje multigeneracional, donde los tatas disfrutan a cada uno de sus nietos, los papás descansan de los niños que juegan y se entretienen con sus primos, donde no hay turnos ni adolescentes que ir a buscar a ninguna fiesta. Un fin de semana adorable, tranquilo, sano, al aire libre y bajo el cielo más diáfano del mundo. Imperdible panorama para celebraciones, aniversarios, cualquier festejo familiar que quieran celebrar, en un ambiente privado y exclusivo, Mallin Colorado y sus 15 habitaciones entre Casa Lenga y cabañas, es el lugar ideal para celebrar en familia.
Si quiere que organicemos el Tata tour para su familia,
contáctenos
.