Unique experiences in Aysen
Going down from Balmaceda to the south along the Carretera Austral, it always surprises the variety of landscapes you will find. In a journey of 300 kilometers that takes approximately six hours, it will pass through valleys, rivers, mountainous rocks, humid forests crossed by narrow roads.

You will enter a route surrounded by flowers in spring, will border for several hours the Lake General Carrera and its calypso immensity, you will see later how the Baker River is searched between cliffs and mountains, all the time there will be a background, a large presence and white: the Northern Ice Fields.

Our ecolodge, Mallin Colorado, is in the middle of this unknown world, of the least visited and most surprising Chile. From there, on the shores of Lake General Carrera, just beyond its mouth to Lake Bertrand, we are within walking distance of the marble caverns, the Exploradores glacier, you can even go to the San Rafael lagoon for the day.

These unique experiences in Aysen we want to show you in our blog, so that when the time comes to venture to our region, do not miss these three activities that are now offered and easily organized from Mallin Colorado Ecolodge.
Marble chapels in kayak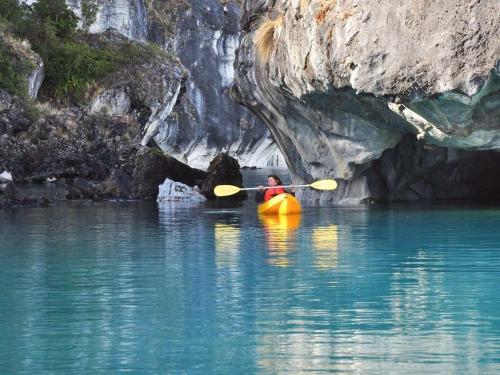 The famous marble caverns can be visited regularly and throughout the day from Bahía Mansa, by boat with Pedro Contreras. But there are also other companies that offer kayak rentals to navigate the crystal clear waters where these white stone rocks are found, pierced by the passage of water for thousands of years.
To Laguna San Rafael from Lake Carrera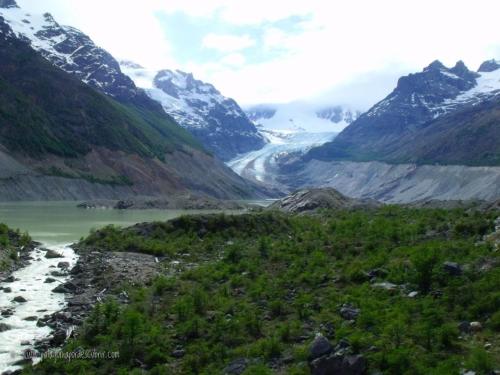 A new way to get to know the San Rafael glacier is being offered in the area of ​​General Carrera Lake through the road to Exploradores Bay.
It is a new route, much more adventurous, with river crossings, smaller boats, exposure to the wind and the cold of the Pacific, a real adventure in close contact with the unspoilt nature of the area.
The ice is seen up close, you walk on them, you also drink whiskey, but the trip of few passengers. A true luxury and a unique experience in Chile's most famous glacier.
You can visit for the day leaving from Mallin Colorado at 7 in the morning and returning late at night, but you go back to sleep at home, your cozy cabin in our lodge.
Walk on the Exploradores Glacier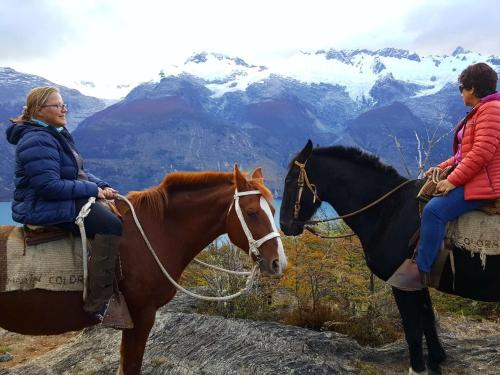 A unique experience in Aysen is to walk on the ice of the Exploradores Glacier. It is the glacier to the north of the southern hemisphere, so in its gigantic tongue that falls from Mount San Valentin, is where global warming is most clearly seen, as the melting ice falls on this glacier.
We will not see walls that fall into the water with San Rafael, but rather it is a horizontal tongue on which you can walk comfortably with crampons for a whole day. Thousands of ice caves give life to an amazing walk, surrounded by white generally with an excellent hot climate. from Mallin Colorado the whole tour lasts a whole day.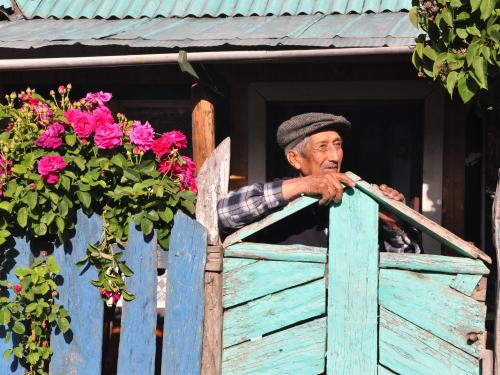 Un día de inmersión local en la localidad de Puerto Guadal en el lago General Carrera. Visitaremos el cementerio del pueblo, rodeado de las aguas del lago y las mas bellas montañas del Avellano al otro lado, con sus tumbas multicolores, luego seguiremos caminando hacia el muelle y esculturas al viento. Subiremos a la Mina Escondida y sus vestigios de antigua mina de oro, podremos ver sus instalaciones y maquinarias en un entorno sublime. Participaremos del Mercado Guadal en la cervecería del pueblo y seguiremos por la tarde a visitar la Cascada El Maqui. Antes del volver a Mallin Colorado, visitaremos a las señoras artesanas del Taller Chelenko.
¡¡No hay nada mejor que volver a disfrutar de una rica comida a orillas de la chimenea y de una acogedora cabaña después de un día al aire libre en Aysen!!
Para hacer cualquiera de estas excursiones o todas ellas, puede alojar en Mallin Colorado ecolodge, ubicado 45 kms más al sur de Puerto Tranquilo y a 9 kms de Puerto Guadal.